About the Event
Fuller Landau presents the 10th annual Cedars CanSupport 'Rain or Shine' Dragon Boat Race and Festival.
Dragon Boat racing originated in Southern China and started gaining popularity in North America in the 1970s. It is the fastest growing water sport in the world and increasingly popular as a corporate team building sport and as a fundraiser. Each boat holds 20 paddlers, 1 steer person, and 1 drummer. The challenge of dragon boat racing lies in the synchronization of the paddlers' strokes, not in the paddlers' strength. All 20 paddlers, regardless of experience or skill level, paddle together for the dragon boat to gain momentum and glide through the water.
Staged on and along the waterfront of Montreal's scenic Promenade Père-Marquette in Lachine, the Fuller Landau Cedars CanSupport 'Rain or Shine' Dragon Boat Race & Festival is a full day of competition and festivities. However, participation in the event begins well before Race Day! Teams of 20 paddlers per dragon boat, sign up throughout the year. Each team must raise a minimum of $12,500 prior to Race Day ($625 per paddler).
The participants are supported in their efforts with an interactive website, free practices, and a full support event planning team to encourage and help with fundraising ideas and activities. To make it more fun and to add to the competitive nature of this event, we offer all teams four (4) free dragon boat training and practice sessions in the months leading up to the event (June, July, August and September)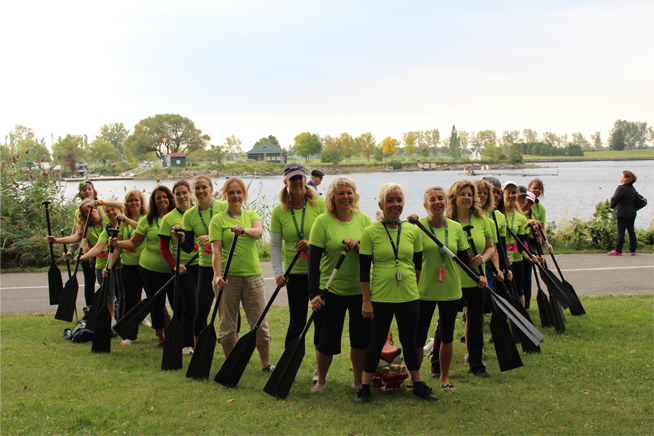 About Cedars CanSupport
All funds raised go to Cedars CanSupport, which provides free psychological and emotional support, practical information and financial assistance to cancer patients and their families at the McGill University Health Centre (MUHC).
A Message from our Founder:
Imagine you hearing these words from your doctor: "You have cancer." What are your first thoughts? Despair, hopelessness, death?
A cancer diagnosis means surgery, chemotherapy, radiation, hospitalizations, and visits to the emergency. And who is there to help you through all this? Who do you turn to? This is what CanSupport is here to do: answer your questions and respond to your needs.
What Cedars CanSupport does is first; let you know that you are not alone. We are there for you and with you; to help guide you from the time you are diagnosed right through to the end, whether it be to the end of treatment and to your return to good health, or to the end of your life and beyond for your families, by helping them deal with their grief.
Please paddle with us and support the fine work we do. We need your help!

Sincerely,
Gwen Andrews Nacos
Cancer Survivor
Founder, Cedars CanSupport
For more information about Cedars CanSupport
and our services please visit www.cansupport.ca.