Cancer doesn't take a pause... Get ready for the 2020 Virtual Edition of Splash & Dash! We can't wait to keep moving with you and
support the Heroes on Sarah's Floor.
SAVE THE DATE
19th Virtual Edition of Splash & Dash
Fall 2020
Registration & more information to follow...
Any questions, contact Wendy Lutfy at wendy.lutfy@cedarsevents.ca
---
---
A thank you note from Event Chair: Stefanie Butt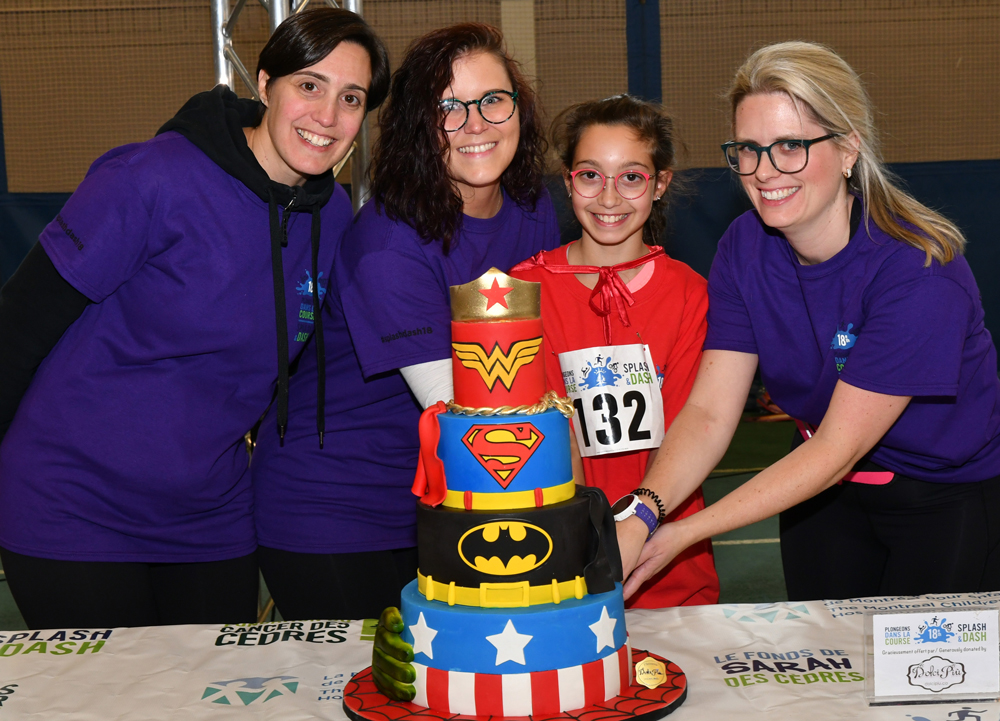 I'd like to first and foremost thank everyone who took part in this year's Splash and Dash and to all who helped us celebrate life and our 18th edition, 2019 was a milestone year for us. I am so proud of what we have accomplished.
We have come a long way since our inception, but we continue to perpetuate Sarah Cook's vision. We have seen Splash and Dash grow, evolve and transform into an event our community continuously looks forward to each and every year. This year we brought the event into adulthood and celebrated life and the courage of our heroes. They are the reason we exist, their bravery, courage, determination and strength make them true super heroes in all of our eyes.
Thanks to Splash and Dash's fundraising efforts we are able to continue supporting programs on Sarah's Floor that make a difference in both the lives of the patients and their families. These vital services bring a sense of normalcy and joy to the patients and their families as they fight one of their toughest battles.
Thank you to our dedicated and seasoned volunteers, who are always ready to pitch in and who come out year after year to help us and help make Splash and Dash what it is. Thank you to Pfizer our title sponsor for its continued commitment to Splash and Dash, as well as all our sponsors, Splash and Dash would not have been possible without your incredible support.
Thank you to Christina Antoniou and Tiffany Turner our sponsorship committee co-chairs and to the sponsorship committee for all their hard work soliciting our corporate sponsors. The Committee exceeded its fundraising goal. Thank you to our honorary chairs Doug and Brina Lewin for taking on this role and helping us reach our fundraising goals.
I would like to personally thank the Cedars team who has been a constant source of support and professionalism. I wouldn't have made it to this day without your tireless effort and behind the scenes help. A very special thank you to Wendy for all your hard work and help throughout the planning process. Thank you for being my partner for the last 3 years.
Thank you to the organizing committee who spent countless hours preparing for this day, your dedication and devotion to Splash and Dash cannot be measured and I thank you for supporting me over the last 3 years. You are an extraordinary group of individuals who is always ready to roll with the punches and always remembers that this day is all about having fun. I consider myself very lucky to have such a committed and enthusiastic team to work with.
Lastly, thank you to Norman, Lorena and Sarah Cook for continuing to believe in my leadership skills and giving me the privilege to make Splash and Dash GO Beyond its wildest dreams and continuing the vision Sarah had 18 years ago. It's been an honour and privilege to lead this amazing event for the last 3 years.
I am very confident in the leadership of Sarah Halickman, I know I leave the event in very qualified and skillful hands. I look forward to what the future has to offer for Splash and Dash.
Stefanie Butt
Chair, Splash & Dash 2019
Presenting Sponsor