Presenting Sponsor |
Winning Raffle Ticket Numbers: 1st Prize: 0173 2nd Prize: 0086 3rd Prize: 0552 4th Prize: 0045 5th Prize: 0509
Click here to donate today.
2021 Press Release
---
A Thank You Message from Event Chair, Veronique Courey
This year, for the second time in Splash & Dash's twenty-year history, our usually live event took place virtually. Over the course of three days our community collectively took millions of steps in support of Sarah's Floor. They took time with their family and friends, shared kilometres and selfies, and most importantly, they raised critical funds for the needs of young cancer patients.
Although we hoped to come together for this year's event, we are so proud that to date the 20th Edition of Splash & Dash has raised $250,000 (and counting)! We are beyond grateful for our generous community of supporters who have continued to support the heroes on Sarah's Floor, even as we are slowly ascending out of the pandemic.
Our event would not have happened without the continued commitment of our title sponsor, Pfizer, and all of our generous Gold and Race sponsors. Splash & Dash is exceptionally fortunate to be supported by wonderful individuals and I must thank our honorary co-chairs, Margaret and Cole Pinnow, our Sponsorship Committee co-chairs Stefanie Butt & Tiffany Turner, our organizing and sponsorship committees, and Norman, Lorena and Sarah Cook, without whom any of this could have happened. Finally, a huge thank you to Wendy Lutfy Cherbaka at the Cedars Cancer Foundation who truly is the glue that keeps it all together.
We look forward to seeing you in 2022 for the 21st Edition of Splash & Dash!
With gratitude and wishing you health, joy and safety,
Véronique Courey | Chair of Splash & Dash 2021
---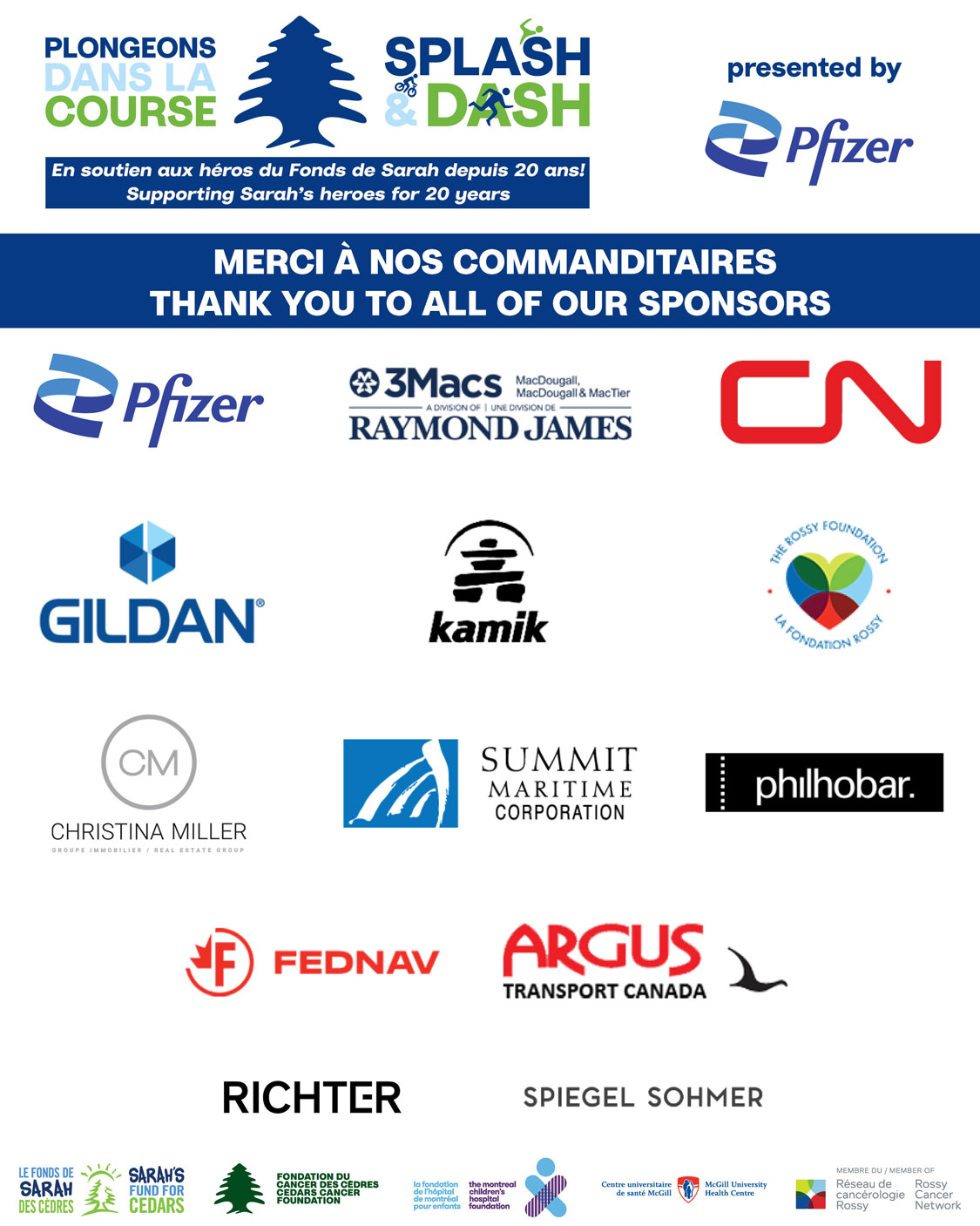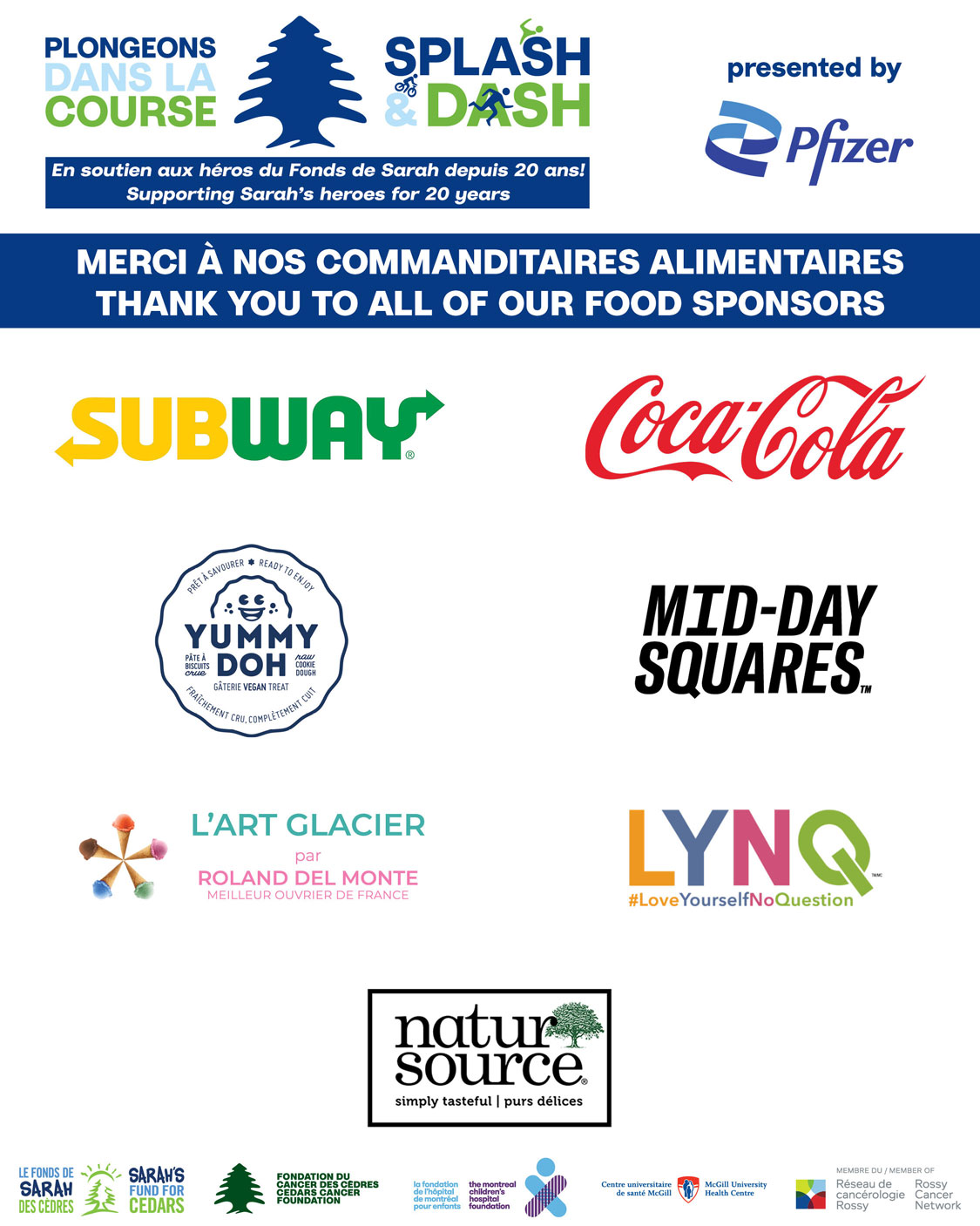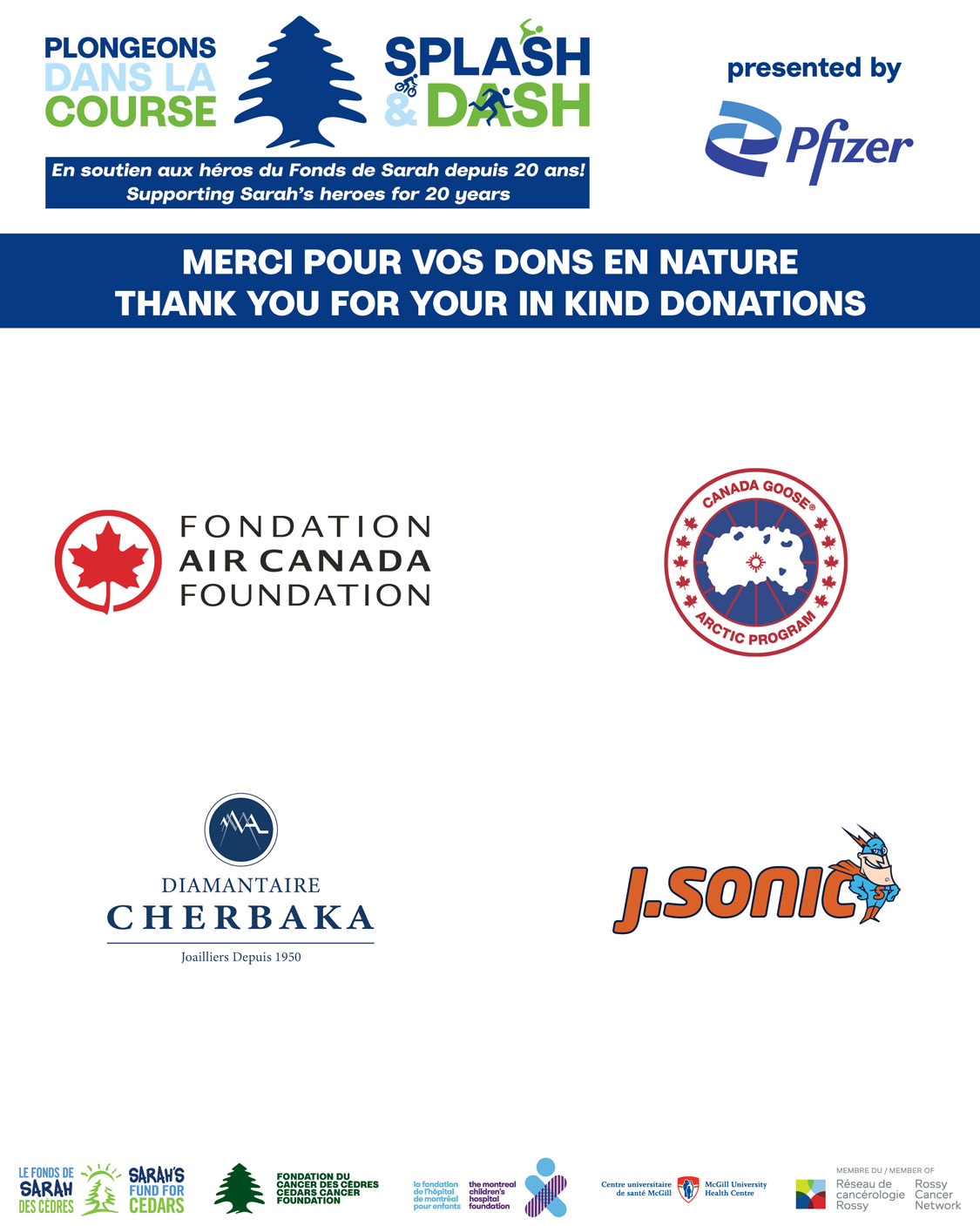 Donate:
Find a Participant or Team:
Meilleures levées de fonds
Heroes & celebrity / Walking in honour of a hero
Top Donors
CN Employees and pensioners community Fund CN Employees and pensioners community Fund
Gordon Cook
Raymond James Ltd. Raymond James Ltd.
Pfizer Canada inc. Pfizer Canada inc.
Norman Cook